Ford Truck Month is our favorite time of year here at Johnson Brothers Ford. A whole month dedicated to our favorite big, chrome-trimmed, tough-as-nails Ford trucks. Our only regret is that it has to end so soon. This year, however, Kelley Blue Book (KBB) is giving Truck Month a proper send-off, crowning Ford Trucks the Best Overall Truck Brand of the past year!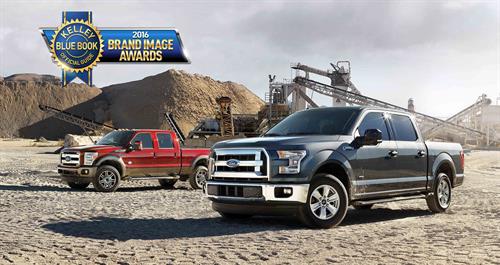 ​
KBB just announced the winners of its annual Brand Image Awards. Now, these awards haven't been around for long, only since 2012, but they have a huge significance. These awards are largely decided by the rankings real people who use KBB to shop for cars and trucks. So it comes as no surprise that this year Ford won the high honors, as it has for the past three years running! Ford's victory this year represents the cumulative high quality of the whole Ford Truck fleet, but the highest praise went to the 2016 Ford F-150, which was consistently one of the most highly ranked trucks on the market this past year.
Ford Truck Month may be almost over, but we couldn't ask for a better send-off than this. Come by Johnson Brothers Ford to test drive one of these award-winning trucks today!